DS Smith stirs up curiosity for Hasbro's Littlest Pet Shop
They are small, cute and have long been a big hit in children's rooms. For the relaunch of Hasbro's successful Littlest Pet Shop pet collection figures, DS Smith has developed a colourful display in the well-known look of the globally popular toy brand. The special challenge: attracting a maximum of attention and visibility in retail to the miniature figures to collect, trade and play despite their small size. The successful mix of widely visible 3D poster, bright colourful design and inclined back wall makes this possible.


Children's passion for collecting is surging. Because Hasbro, one of the largest toy manufacturers worldwide, has relaunched its Littlest Pet Shop pets. In the German retail trade, the relaunch of the popular collectable pets was promoted with an attention-grabbing display by DS Smith. The brightly coloured pallet display printed in a high-quality offset printing process is a real head-turner even from far away. The 3D poster laminated on both sides, attracting young and old alike to the presented products with the logo of the brand and the cuteness factor of the depicted pets, is a special eye-catcher.

Thanks to the slight inclination of the back wall, DS Smith's solution shows off the entire product diversity in an ideal way – regardless of whether the small packaging units are presented standing or hanging. At the same time, the clever construction ensures that also children are able to remove the goods without problems. The distinctive colours and shapes and the strong-identity design create a high recognition value. The display attracts all young and old friends of the Hasbro collection figures in a targeted way and thus sustainably increases sales of the new product range.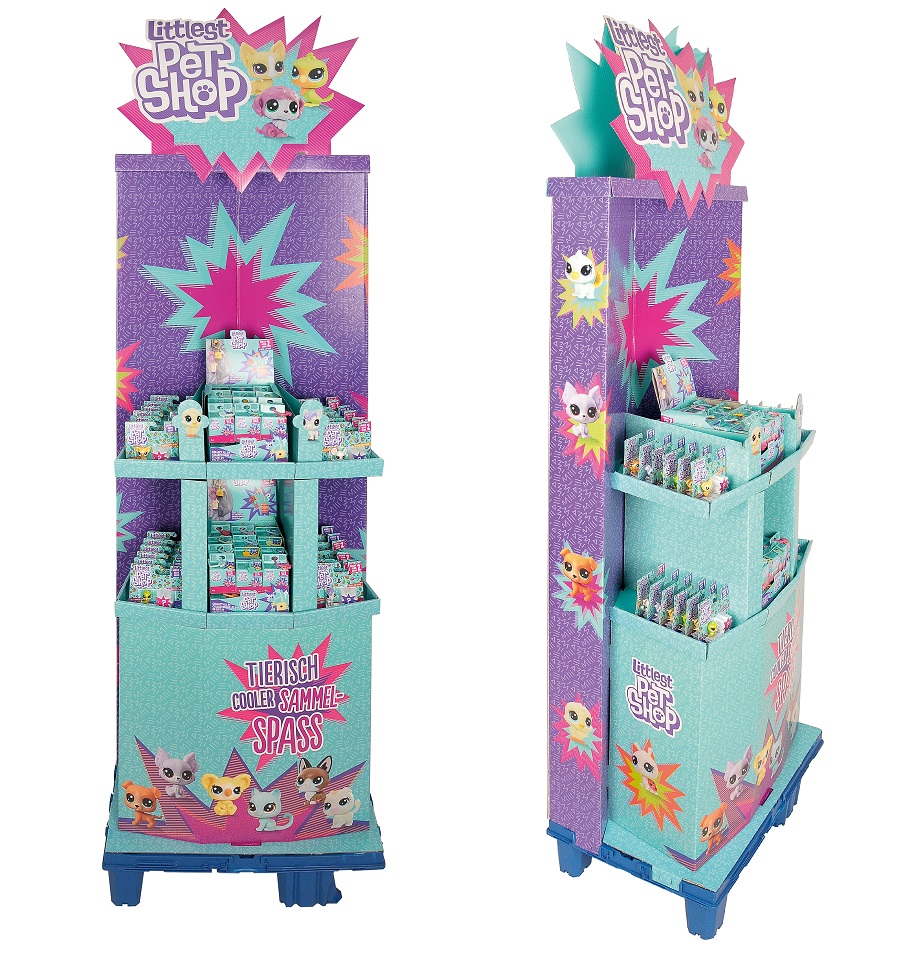 Pictures: DS Smith
Caption
DS Smith's unmistakable display for the relaunch of the popular Littlest Pet Shop pet collection figures attracts young and old shoppers in a targeted way with its strong-identity colours and shapes. With the slight inclination of the back wall, the clever construction offers a clear view of all articles and thus guarantees optimal sales success.