The Iconic VW Cake Van Rolls Up at Point of Sale
A display phenomenon for DS Smith customer Kuchenmeister.

Yellow corrugated cardboard bus
Sunshine yellow Volkswagen vans are the ultimate eye-catcher at a confectionery point of sale: DS Smith Deutschland has produced a display phenomenon for the bakery products manufacturer Kuchenmeister which makes the cake-fans and nostalgia lover's hearts beat faster. The spacious bed of the corrugated cardboard "old timer" is used to display an extensive cross section of the Kuchenmeister product range and brings the company motto "Baking is our passion" to life, in its own cosy way.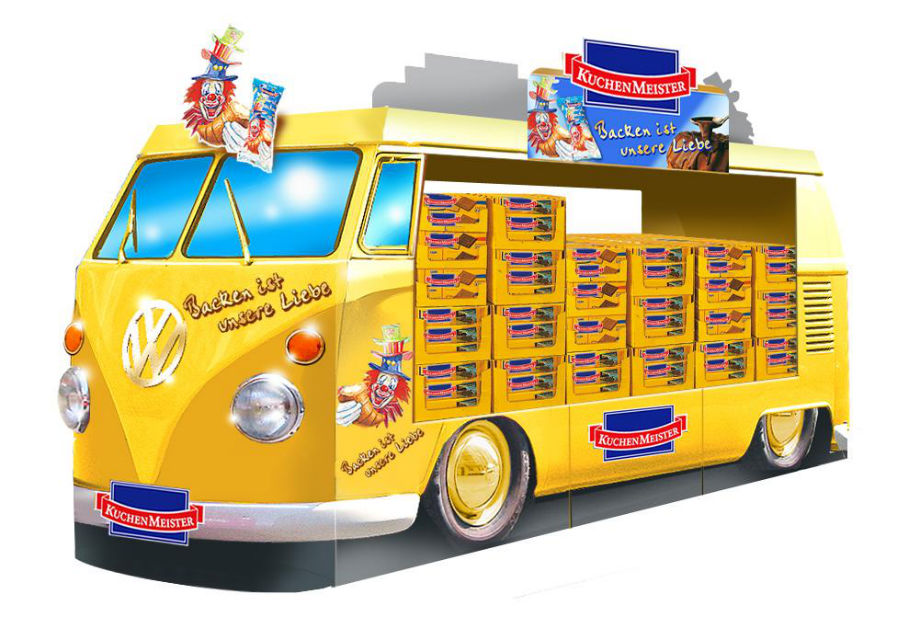 The idea for the yellow cardboard stand, in an iconic VW van style, came to DS Smith's full service packaging suppliers at the international confectionery fair last year. The original concept for the display was there on Kuchenmeister's own stand: The VW van was "Günter Trockels" sales vehicle, which he once used to transport bakery products for his parents' business. What could be better than this perfect brand image as the focus at the point of sale?
Maximum flexibility
In Hanau they developed a modular display using offset-printed and laminated B and E flute corrugated cardboard, suitable for 4 or 8 half euro-pallets. This allows the display to be easily increased from two to four pallets or reduced from four to two pallets. It also offers retailer's maximum flexibility, as there is sufficient space for the VW van even in the smallest sales areas. The second advantage is that the pallet wraps are equipped with 80-section velcro fastenings. This means that it is not only possible to set up the large display quickly, but that empty pallets can be easlily replaced thanks to this design.
The goods are sold via the VW van's bed and a free-standing roof structure provides a clear view and access to the various Kuchenmeister bakery products. For consumers, this means uninterrupted enjoyment of biscuits and cakes – coupled with the atmospheric VW van style, which is part of Kuchenmeister's company history. This point of sale staging shows that emotional displays give a new momentum to brand presentation in retail outlets. From the initial concept, as a 3-D layout, to the graphic design of all individual components, right up to pre-press and production, DS Smith provided everything needed to breathe life into the iconic Kuchenmeister van – with benefits for the brand, retailers and consumers.