DS Smith Donates € 50,000 to UNICEF
Fulda, 29 November 2019. The future is the biggest present for children. In an innovative UNICEF project in Ivory Coast, the environment is relieved of plastic waste that turns into building bricks for schooling facilities. This is how children get a chance of education. At the same time, families receive financial support and the health situation of children improves. DS Smith has therefore decided once again to make a donation to UNICEF via the DS Smith Charitable Foundation instead of sending gifts to customers.

Future prospects of millions of children in Africa are restricted, since they cannot attend school. One reason for that is that there are not enough classrooms. "Ivory Coast alone lacks several thousand schoolrooms," stresses Wolfgang Schmid, Head of the UNICEF Fulda working group. "The kids who go to school often have to learn in entirely overcrowded classrooms, which significantly impairs their education opportunities." Image right: DS Smith
Education and a better future for children - plastic recycling makes it possible. Wolfgang Schmid and Ritva Mikkonen-Diegelmann, from the UNICEF working group Fulda, are delighted with the donation cheque of 50,000 euros handed over by Anja Röhrle, Marketing & Communication Manager, and Philip Bautil, Managing Director, both DS Smith (picture from left to right).
"Yet at the same time, we have millions of tonnes of plastic waste worldwide, both in our oceans and onshore. This affects us all. In a recent survey that we conducted together with L`ObSoCo, 86 % of the respondents said that they considered the environmental issues to be the greatest challenge of human society in the next decades," says Anja Röhrle, DS Smith's Marketing & Communications Manager Germany/Switzerland.
In Ivory Coast, UNICEF has launched a project where plastic waste is collected and processed into bricks for new schooling facilities. This has a threefold benefit: Plastic waste is reduced. Schoolrooms are created, and thus a chance of education and a better future for the children. In addition to this, the proceeds from collecting waste improve the living conditions of poor families.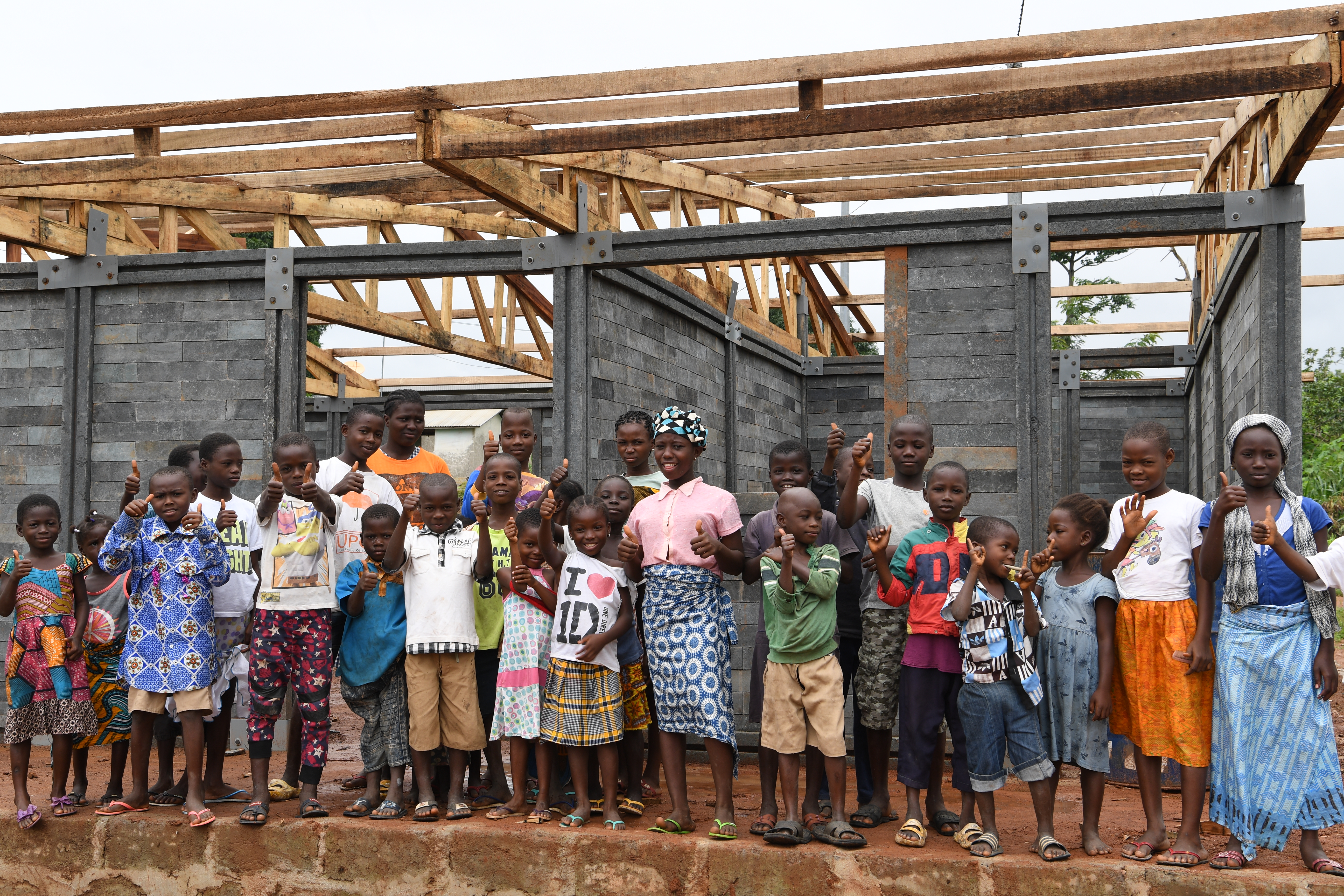 Image right: © UNICEF/UN0334286// Frank Dejongh
With its Christmas donation, DS Smith supports the construction of classrooms, for instance, here in Sangouine, a village in western Ivory Coast. The classrooms have been constructed from bricks made of locally collected plastic.
"We at DS Smith have been actively dealing with the issue of substitutes for plastic for a long time. In hundreds of projects, we could manage to replace plastic with solutions on the basis of corrugated cardboard. Moreover, we focus on sustainability and education projects in our DS Smith Charitable Foundation," emphasises Philip Bautil, Managing Director at DS Smith. "This project is therefore the right thing for us, and it matters a lot to us. We hope that this pilot project will prove its long-term worth and can be introduced in other countries."
The donation cheque was handed over to Ritva Mikkonen-Diegelmann and Wolfgang Schmid, both from the UNICEF Fulda working group. "We are so glad that DS Smith supports the global action of UNICEF this time again," says Mr Schmid.
For the sixth time in a row, DS Smith has decided to make a donation instead of sending gifts to customers. Since 2014, the company has donated a total of € 300,000 to UNICEF via the DS Smith Charitable Foundation in order to help children in need and to offer them better future opportunities. "Special thanks go to our customers, who encouraged us to do without Christmas presents and thus virtually donated as well," emphasizes Bautil.
For further information on the project and the issue of DS Smith's corporate social responsibility, please go to www.dssmith.com/weihnachtsspende2019.