Debt investors
DS Smith funds its operations from the following sources of capital: operating cashflow, borrowings, shareholders' equity and, where appropriate, disposals of non-core businesses.
The Group's objective is to achieve a capital structure that results in an appropriate cost of capital whilst providing flexibility in short and medium-term funding so as to accommodate material investments or acquisitions. The Group also aims to maintain a strong balance sheet and to provide continuity of financing by having a range of maturities and borrowings from a variety of sources.
For details of financial risks and how the Group manages those risks, please refer to note 21 of the 2016 Annual Report.
Borrowing facilities
DS Smith finances its operations using a number of funding instruments, including Medium-term notes, private placement debt and bank borrowings.
Borrowing facilities as at 30 April 2016
Facility
Committed funds million
Maturity
£ million equivalent
Syndicated bank loan facility
£800
2020
800
Private placement

US$95

2

0

16

54*
Private placement

€118

2

018-20

93
Private placement
US$400

2

017-22

256
Public bond
€500

2022

393
* Repaid in Full August 2016
Analysis of Gross Debt at 30 April 2016

Available committed facilities as at 30 April 2016, including

Term Loan Facility agreed July 2016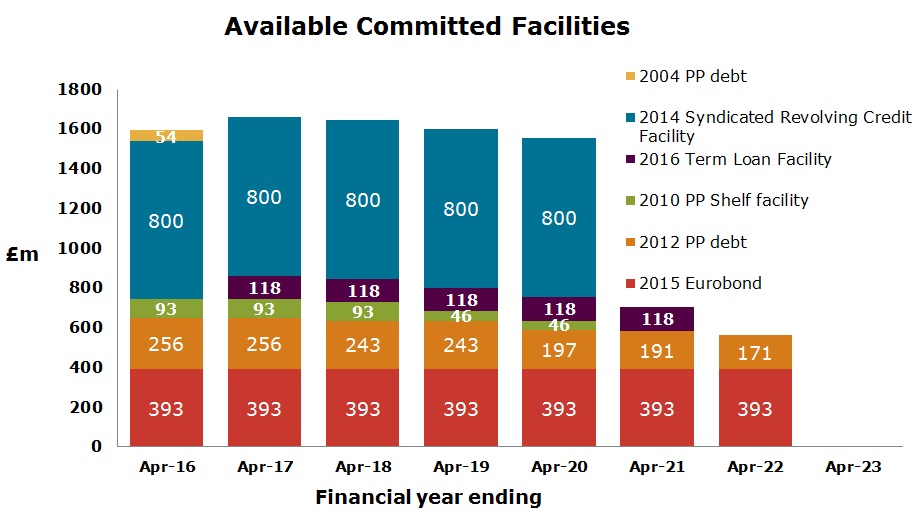 DS Smith has been given a credit rating of BBB- by Standard & Poor's.
Euro Medium-term Note Programme
| Maturity date | Issued amount | Coupon | Interest paid | Date | Minimum denominations |
| --- | --- | --- | --- | --- | --- |
| 16 September 2022 | €500m | 2.25% | annually | 16 September | €100k |