Ensuring pet care packaging sets the sustainable benchmark
Author: Nicola McNey, Sales Manager and Segment Specialist, DS Smith UK
Removing the need for single-use plastics is one of the hot topics of 2018. In the UK, the Government has made pledges to reduce the use of plastics, a move which has seen retailers and supermarkets making commitments to cut use in-store. With this in mind, manufacturers of pet food products are looking at innovative new product packaging designs and materials to meet sustainability targets, while continuing to ensure the safety and freshness of the food.
Making sustainable changes to a pack design, such as reducing the materials used or trialling a different format, can reverberate throughout the supply chain. For pet food brands, these incremental improvements can equate to substantial cost and carbon savings, greater efficiencies, improved environmental performance and a key competitive advantage as consumers are drawn to more environmentally-conscious brands. In fact, 55% of global consumers will pay more for products or services that put social and environmental issues at the heart of their strategy[1].
With the UK pet care market worth £4.5 billion and predicted to grow to £4.7 billion by 2022[2], ensuring packaging is high-quality, impactful and sustainable is essential for brands looking to stand out in the increasingly competitive marketplace.
DS Smith has a long history of working with leading brands in the pet food sector, to ensure their packaging has an informed design that stands out to shoppers while using the least amount of material to protect the product in the supply chain.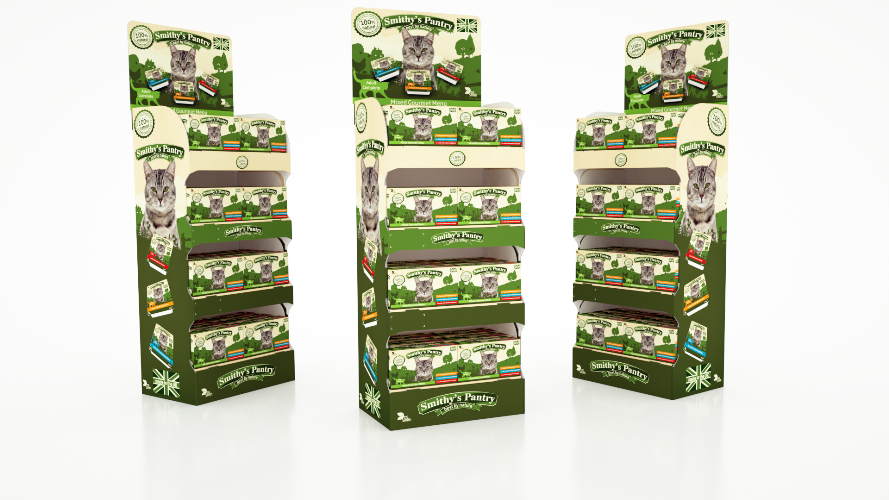 Whether pet products are presented to shoppers on-shelf or ordered direct to their homes, packaging is the first physical interaction the shopper has with a brand and therefore, a key way in which pet care brands will be assessed for their environmental impact. Well-designed packaging that is optimally-sized helps support sales and creates efficiencies in the supply chain. Waste can be removed, space used effectively and the right pack format can drive availability and sales. For pet food brands, these efficiencies can quickly add up to profit, as well as supporting sustainability credentials.
In addition, the use of corrugated packaging can play a valuable role in reaching sustainability targets. It is fully recyclable, frequently made from recycled papers, has a high strength-to-weight ratio, is versatile in design, and is the perfect canvas for high-quality printing to reflect the unique identity of pet food brands, ensuring they stand out from the competition.
At DS Smith, our sustainable approach to packaging is long-established and effective. Currently the fibres we use in packaging can go from box to box within 14 days via our circular model. This means corrugated boxes are made, used, collected, recycled, and made back into boxes again in as little as two weeks. The nature of the material means it is environmentally sound. Packaging specifications should reflect the least amount of material necessary to perform through the packaging process and protect the product right through to point of sale to make sure it arrives in a condition shoppers expect.
The print capabilities of corrugated also enable key labelling information to be clearly relayed, such as details on the product's ingredients and the materials used in the packaging. This is particularly important for brands seeking cut-through. Euromonitor found there is a desire from consumers for clear communication on the source and ingredients of pet food, as well the brand's overall positive contribution to the environment. With packaging in store having less than two seconds to capture a shopper's attention[3], it's essential pet food brands get this right.
Pets are increasingly seen as an integral part of their owners' lives – 99% viewing their pet as 'part of the family'[4] – and for many, every product purchased has a deep-rooted emotional connection to their pet. As such, consumers have an invested interest in the products they chose for their animals. Brands need to ensure that both the quality of the pet food and its packaging reflects this sentiment and uses emotive triggers through the language and graphics used.
Pet food shoppers increasingly expect brands to be playing an active role in the packaging debate, choosing alternative solutions to non-recyclable materials. Similarly, the EU has set a target to reuse and recycle a minimum of 65% of packaging by 2025, and this rises to 70% by 2030[5]. There is currently a gap here, and much more that brands can be doing to increase impact at the moment of truth with the shopper, while also gaining supply chain savings and meeting a range of targets to meet environmental business objectives.
For more information on how DS Smith can support your brand's packaging, please get in touch with one of our packaging experts
here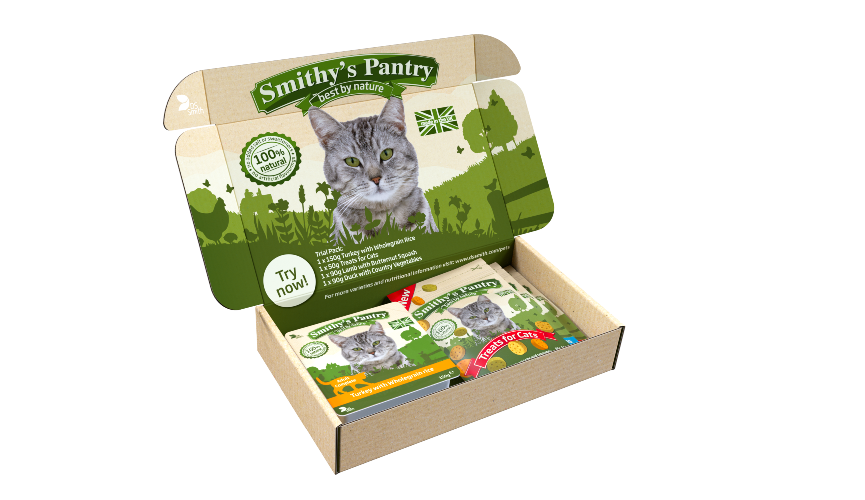 ---
[1] Nielsen, Global Survey on Corporate Social Responsibility
[2] Euromonitor, PFMA, 2017
[4] FEDIAF, Pet Food Trends
[5] https://www.letsrecycle.com/packaging/targets/