Increasing sales of Intersnack chips thanks to in-store display
DS Smith supports Intersnack Poland with point of sale solution supporting sales in large-format stores.

Intersnack Poland is part of the Intersnack Group, a leading producer of salty snacks, nuts and peanut butter. The products are sold under brands such as Felix and Przysnacki. In connection with the promotion of Chipsy w Kotle Prażone (Chips Roasted in a Cauldron), the client was looking for a solution supporting sales in large-format stores.
CHALLENGE:
The most important task was that the display referred and promoted the production method. Intersnack aimed to feature how frying portions of chopped slices of potatoes become golden brown in a huge pot and they achieve exceptional crunchiness. This effect needed to be enhanced by the size of the display - a one-pallet stand. It was necessary to ensure easy access to the product and great visibility in large-format stores. In addition, the stand had to be easy to use for a sales representative - simple and quick to assemble and handy for transport.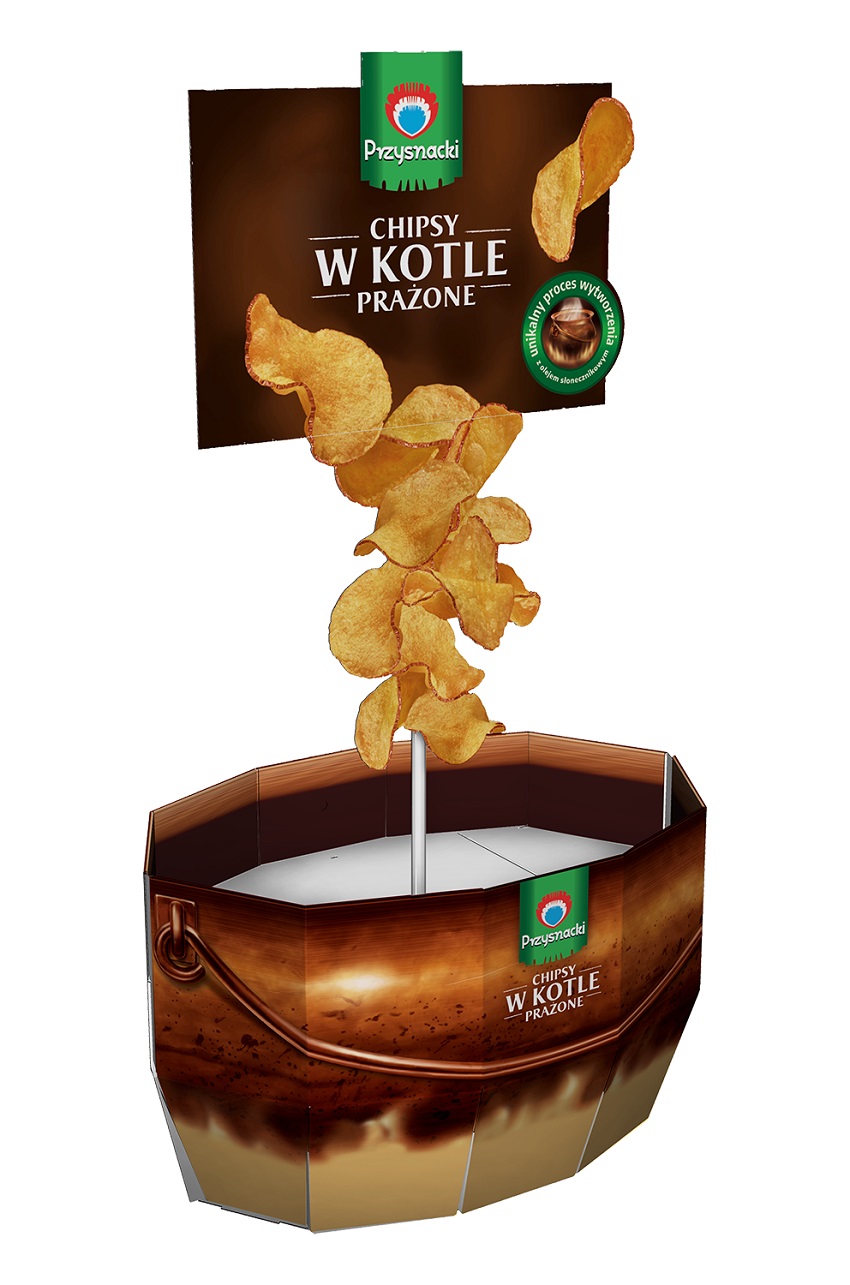 DS Smith proposed a Point-of-Sale solution that met the customer's requirements. The display perfectly imitates the cauldron, which is full of roasted chips. The top part makes the stand visible in the store. It clearly displays the product, which, thanks to the high-quality offset printing, looks very appetizing.
The large-size structure is easy to assemble. It takes only 3 minutes.
It consists of only 5 elements: a wrapper, a floor, a bottom, a grating and a topper. All components are made of 100% cardboard. Whole packed in a handy cardboard "outer". The packed stand takes up little space and can be easily packed into the trunk of a car.
The handy and quick set creates an effective and impactful display which is difficult to overlook in the store.
All this was possible thanks to the customized and smart design of the stand.
The displays went to the modern sales channel, i.e. to large chain stores and Cash and Carry. 20 sales representatives throughout Poland were involved in the distribution of 500 units. The design was positively received.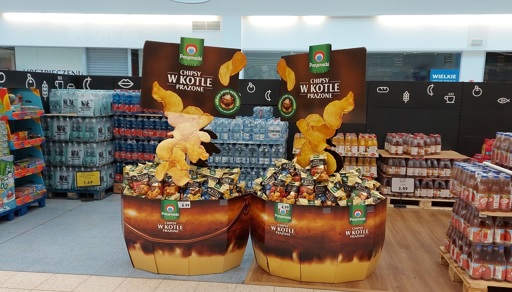 Thanks to the displays, it was possible to increase the sales and differentiate the product in the store.
RESULTS:
A large-sized stand that can be easily and quickly disassembled from a small and handy box. Thanks to this clever solution, the effective display communicated the most important features of the product and supported sales in 500 large-area stores.
Would you like to know more about our Point of Sale and Display solutions?