DS Smith: winner of the corrugated board innovation award 2021
DS Smith brings holiday feeling to the point of sale for Ritter Sport

Around the world in three (chocolate) bars
With the "Fernweh-Promotion", Ritter Sport has taken fans of its popular chocolate squares on a sweet holiday trip to the dream destinations of Hawaii, Costa Rica and Morocco. The three new seasonal varieties "Hula Hula", "Buenos Días" and "Marhaba" were promoted in retail outlets with an attention-grabbing large placement by DS Smith. The unusual 3-D effect of the display with its exotic flower, fruit and animal elements allowed shoppers to experience the flair of foreign cultures at close quarters on the sales floor. As a special kind of shopping experience, the placement, printed in high quality offset and digital printing, animated every chocolate lover to buy the products presented under the arc and take home their favourite holiday moment. DS Smith has now been rewarded with an award in the Display category at this year's Corrugated Board Innovation Awards for its large-scale placement, which is as original as it is strong in identity.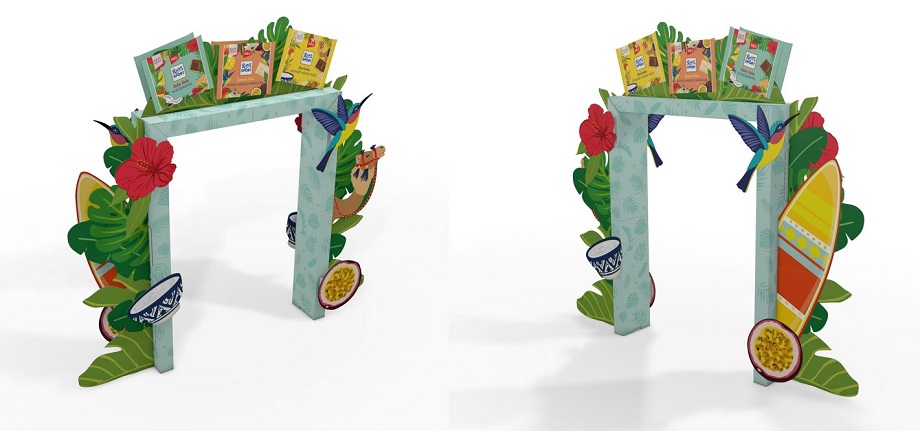 Simply escape from everyday life and take some time out - without having to travel? Ritter Sport made this possible with the exotic chocolate creations of its "Fernweh promotion". The special promotion attracted maximum attention in the trade with a large corrugated board placement developed by DS Smith (realization), hempfprigge* (concept & design) and PPS. Digital Printing (prototype). The innovative display, which offered space for four 1/4 pallets under its arc, attracted shoppers' attention from afar. Whether "Hula Hula - Coconut Wafer", "Buenos Días - White Mango Passion Fruit" or "Marhaba - Yoghurt Honey Nut": thanks to the prominently placed XXL-format panels on the arc, chocolate fans could immediately recognise the new varieties with which they could bring that holiday feeling into their homes.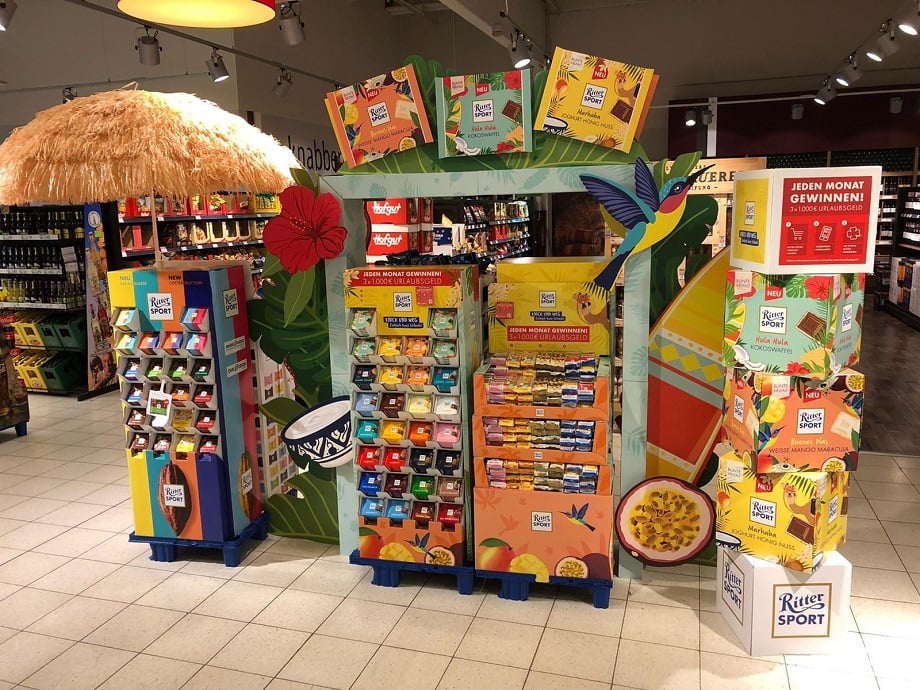 Holidays without jet lag - the attention-grabbing large-scale placement of DS Smith put shoppers at the point of sale in a holiday mood and thus guaranteed high retail sales for the "Fernweh promotion" of Ritter Sport.
At the same time, the large placement perfectly picked up on the campaign theme, "Fernweh". Emotional eye-catchers such as a surfboard, exotic flowers and animals in the look and feel of the packaging design awakened a longing to travel to foreign countries. The corrugated cardboard elements in front and behind the arc, which protruded from the placement in different directions, created an impressive 3-D effect on the sales floor. Shoppers felt as if they were in the middle of a subtropical paradise thanks to the arrangement and high-quality printed images. The effective advertising placement thus skilfully brought the Ritter Sport campaign "Knick & weg: Einfach kurz Urlaub!" to the point of sale and made an optimal contribution to the brand: for a unique shopping experience and high retail sales.
In line with the new DS Smith sustainability strategy "For now and next", the Ritter Sport "Fernweh-Promotion" is made entirely of corrugated board and can therefore be easily recycled at the end of its useful life in retail outlets.
--
Would you like to know more about our display solutions: