DS Smith and Lincoln Electric optimize 42% the packing time for welding carts
For more than 125 years Lincoln Electric has been a world leader in the design, development and manufacture of welding equipment and accessories. The company's solutions are used in a variety of industries in more than 160 countries. For one of its products, a welding cart, the company wanted to streamline the packaging process and reduce the use of PE foam components. Together with the leading manufacturer of environmentally friendly corrugated packaging, DS Smith, significant improvements have been made to reduce packaging time, plastic replacement and saving materials.
The challenge:
Welding carts, which are produced in 4 versions, require very good protection during transport. They are a product weighing up to 70kg, with irregular shapes that can be easily scratched. They are also shipped by sea.
To protect them during transport, the cart is placed on a wooden pallet, the handles and critical parts of the cart were wrapped in foam and taped. This protected the products from damage and scratches. The packaging used was reinforced with wooden pegs. In order to fix them, 11 wooden strips had to be nailed to the pallet.
They supported the outer carton at the corners and edges. This enabled pallets to be stacked for transport. The average packing time for 1 cart for transport was 52 minutes.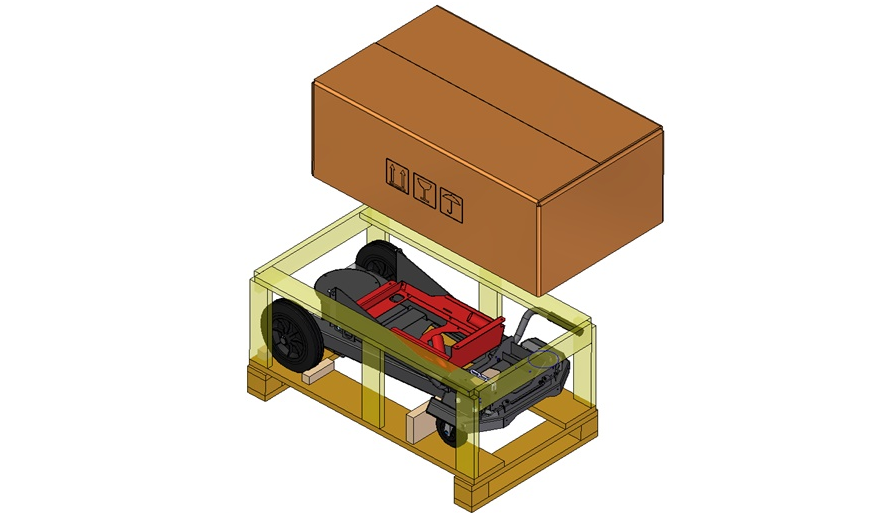 The solution:
A simple and easy to assemble solution has been designed. The cart is placed on a wooden pallet, but the wrapping is made of strong cardboard protecting the cart all around. It consists of 4 elements - walls, which can be easily joined together thanks to special cut-outs. They do not require the use of tools. A cardboard stabilising beam is used to reinforce the construction. The strong wrapping and the supporting beam in the middle eliminated the mounting of wooden pegs in the corners of the package and made the goods stackable.

This solution is working very well and has passed the first sea transport test without any objections.
The result:
As a result of these changes, packing time per cart was reduced from 52 to 30 minutes, a 42% reduction! This means that 1.5 weeks of 1 employee's time was saved per quarter.
In addition, the process of purchasing packaging components has been significantly simplified - PE foam sheets and wooden beams have been eliminated. This also means environmental benefits - plastic consumption has been significantly reduced. This is in line with the ambitious targets of DS Smith, which as part of its Sustainability Strategy "Now and Next", wants all packaging produced by the company to be recyclable or reusable by 2023.
--
Would you like to know more about our Sustainable Strategy?