Collaborative approach delivers Bag-in-Box for LAHQUA® premium spring water
Context
LAHQUA® is a new Finnish water brand committed to offering high-quality natural spring water, preserving its authentic properties. In order to achieve this, Lahqua adopted a collaborative approach through strategic partnerships with leading experts in the manufacturing and packaging industries, and selected the best available technologies aiming for maximum reliability, product quality, and sustainability.
Challenge
LAHQUA® spring water was born in Lahti in Finland, in the Finnish Lakeland. The water is packaged right at the source in a newly built sustainable factory equipped with modern state-of-the-art machinery. LAHQUA® spring water is offered mainly on Asian and Middle East markets through e-commerce channels. As this premium water is transported over a long distance, it needs high-quality packaging to keep the water fresh. It also requires durability, a great customer experience and sustainability performance. The packaging had to be compatible with leading brands of high-capacity folding machines. Moreover, it should delight customers with state-of-the-art design and printing.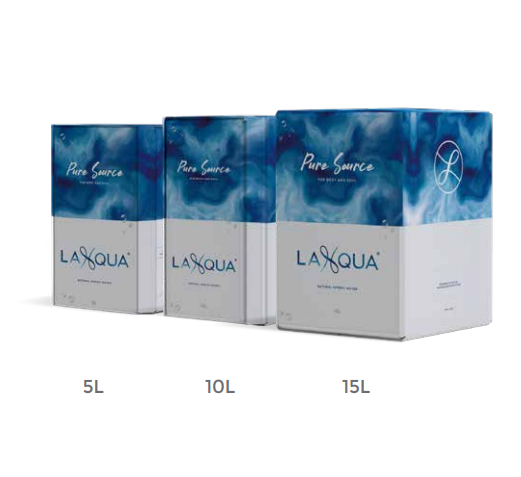 Solution
DS Smith, the leading supplier of sustainable packaging solutions, offered a Bag-in-Box format, available in 5, 10, and 15 liters. It is compact and convenient for stationery consumption. This packaging is the safest single-use packaging solution ensuring that the water keeps its freshness until the last drop. Thanks to vacuum pressure technology, it avoids oxygen into the package, prevents bacteria to develop, preserving the authentic taste and natural health benefits. Bag-in-Box packaging is made of 3 and 5-layer cardboard, with offset and flexographic printing. It goes with secondary packaging – both designed for automated folding. Moreover, DS Smith Packaging Systems in France delivered 3 packaging lines for the Bag-in-Box solutions.
DS Smith supported every step for this unique start-up, including brand design expertise and technological know-how.
Results
Thanks to this collaborative approach the DS Smith team could offer comprehensive service and flexibility in action. We both learned during the process to ultimately deliver optimal solutions, both for packaging solutions and packaging systems.
WANT TO GET STARTED WITH SUSTAINABLE PACKAGING SOLUTIONS?