Bulk Returnable Containers
DS Smith offers a number of large, foldable and reusable containers made in plastic, cardboard or a combination of materials that can save you space, time and money.
The robust returnable containers are foldable and have bespoke interior conditioning based on your product needs (protection foams, flexible cells, plastic positioners...) and can handle weights up to 2000kg. Sizes range from standard dimensions (European and American pallet) to a completely customisable body in terms of height, charge window, sealed edged, etc.
MADE TO MEASURE
FOLDABLE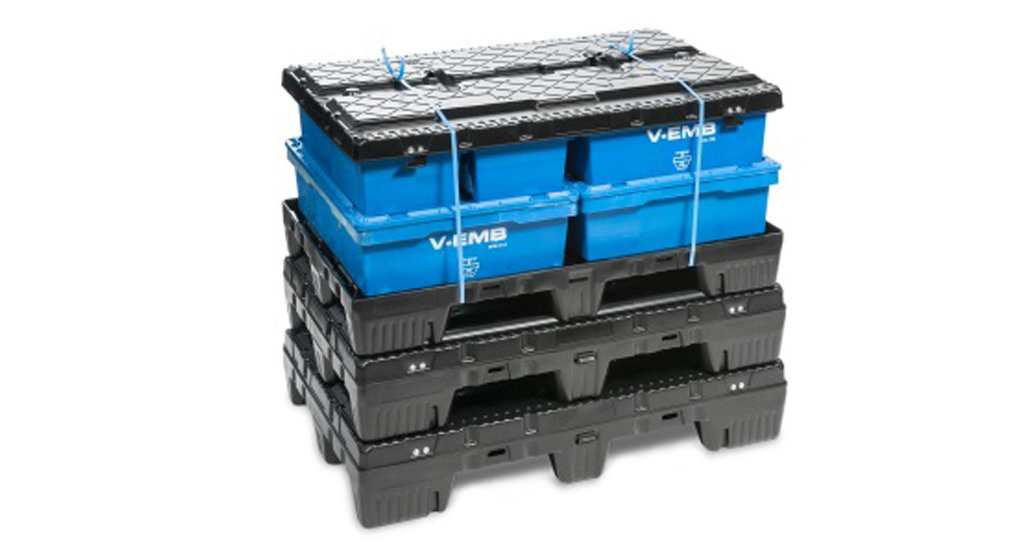 Returnable foldable plastic and corrugated containers
Saving Space
The containers are foldable and supplied flat saving vital space at various points in the supply cycle. Folding during delivery can result in space savings of anywhere from 70% to 90% compared non-collapsible containers which translates directly into lower transport and storage costs.
Saving Time
Foldable containers also present dramatic savings for handling as they can be erected in seconds ensuring that employees spend their time focused on their main tasks.
Highly Adaptable
Not only is the size of the container completely customisable but the interior fittings can also be designed with your supply cycle needs in mind. These can be bespoke cardboard fittings, foam cushioning to protect delicate parts, positioners, plastic trays, dividers and more designed to optimise protection and easy access.
Types of solutions:
Export boxes
Export boxes can be made with double, triple flute or laminated corrugated cardboard, that can be developed in three folding possibilities: Easy access for big and volume products that have a complex packing, CKDs designed to tolerate all maritime facts and simple Kits to save space.
Bespoke designs
Bespoke foldable packaging for 4 automobile dashboards, achieving to contain more parts per packaging and a perfect fit/ protection of them.
Maritime transport
Foldable containers with a double corrugated body that allows to packaging to support the rigors of shipping. Window possibility for an easier access.
Foldable container
Corrugated container with a simple folding, customizable in height and quality of the cardboard depending on the customer needs, it also allows the incorporation of multimaterial interior fitting.
Fixing clips
Foldable packaging formed by a cap and a bottom made of corrugated, and two elements with a "L" form that are joined together by a plastic clip forming the body of the container.
Kits include all packaging elements (pallet, tray, body and cap) and can be assembled in just 20 seconds.We work with standard pallets with variable height, but also with bespoke package made up to suit your needs.
Modular Containers
DS Smith provides a range of modular containers which offer the possibility to mix a container with a sub group of two smaller containers on top of it and vice versa.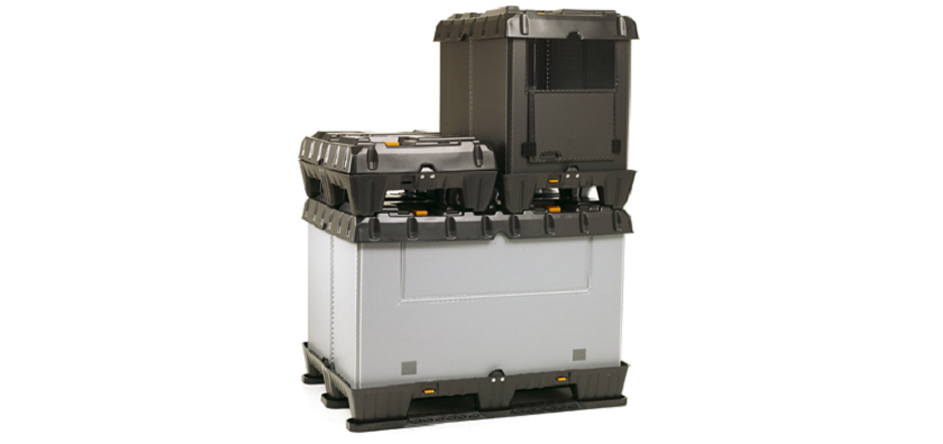 Battery Pack Clam Shell
The Battery Pack is a clam shell concept in twin-sheet for the transport of batteries or spare parts for electrical vehicles. It provides fastening straps and safety latches. It complies with UN regulations for the tranportation of hazardous materials and the twin sheet structure ensures very high results in drop tests.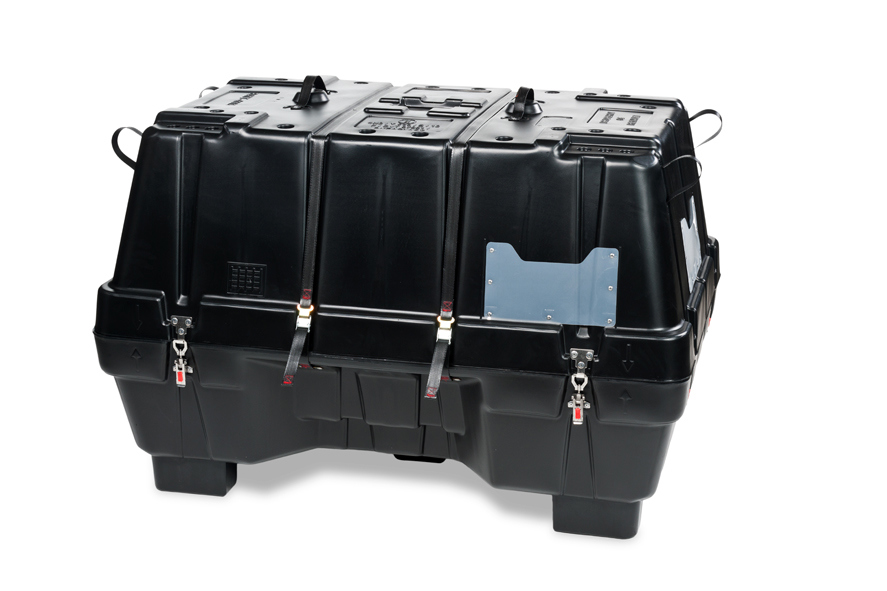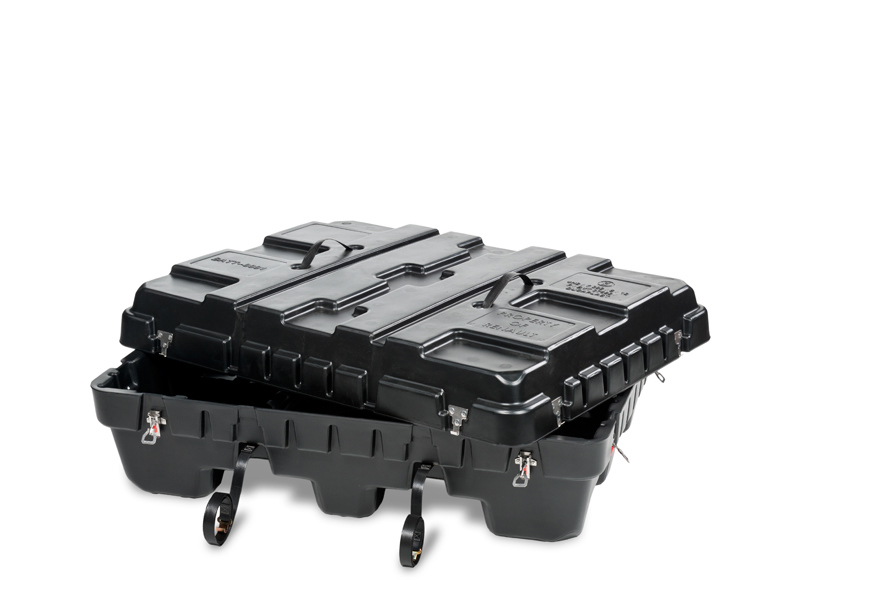 Optimised Return Containers
Uni-Pak® is a twinsheet 3 piece foldable container particularly designed for optimal return logistics available in different formats, heights and range of options. For the optimised return trip, pallets and lids are returned stacked and sleeves are returned in an existing container.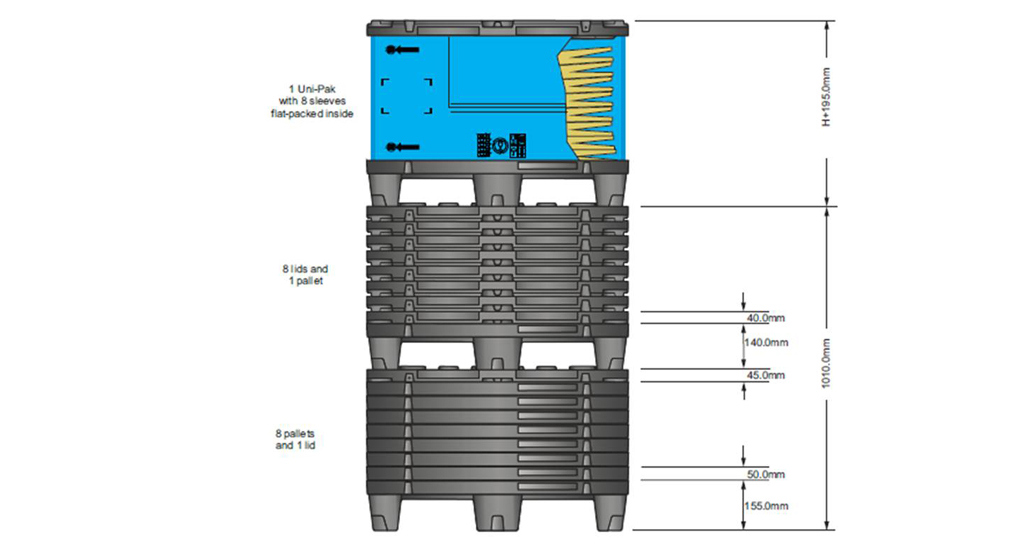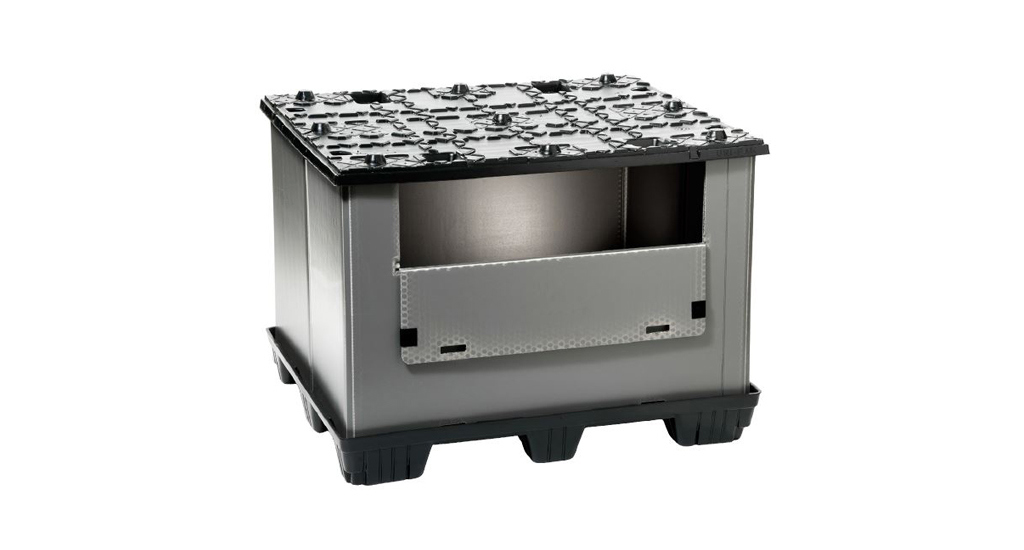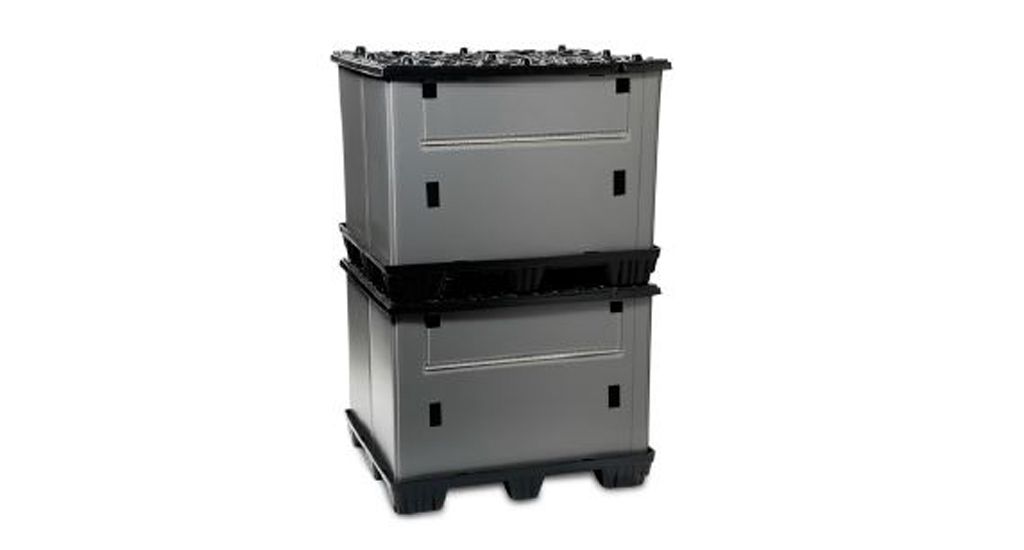 Unit Return Containers
DS Smith's wide range of unit return plastics container solutions are designed for ease of handling and minimum shipping volume when empty. Unit return means that the sleeve is returned folded inside the pallet and lid. This maximizes space during the return trip, faster consolidation but also easy control of the stock of parts.
Benefits
Bespoke design according to your needs
Wide range of interior fittings bespoke to your needs provide exceptional protection
Reusable and very light
Easy access to parts
Reduces manufacturing movements
Facilitates synchronization of deliveries (Kanban...)
Stackable in warehouse and on the move
Maximum number of parts per packaging
Direct to assembly line and facilitates synchronization of deliveries (Kanban...)
Considerable space savings with 'Lay-Flat' delivery
One unique packaging for multiple references