Helping Flowerworld to bloom
DS Smith's UK Packaging Division has supported a leading UK flower wholesaler to launch its online order service by developing bespoke packaging to help the company achieve its aim of getting customers' flowers from field to vase within 48 hours.
Flowerworld, which supplies more than 21 million bouquets per year, challenged DS Smith to design a pack that delivers flowers to customers in pristine condition and creates a sense of theatre and delight for consumers upon receipt.
DS Smith applied its PackRight approach to review the rigours of the e-commerce supply chain and then develop bespoke e-retail packaging that supports the new online service.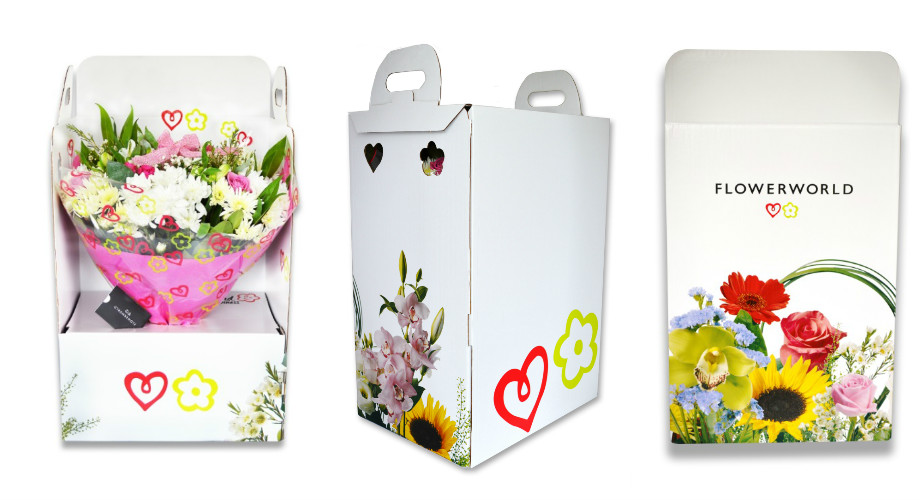 The pack is easy to erect, fully-recyclable and holds the bouquet securely throughout the journey. The handles act as 'locators' so each pack remains upright and stacks firmly on top of each other, ensuring supply chain and delivery efficiency. It is also designed to be future-proof to enable the assembly process to be automated as Flowerworld expands.
The pack's lid is four-colour pre-print with a spot varnish. It has been attractively designed and can easily be removed by the customer to reveal the whole bouquet.
Becky Wilcock, Marketing & Communications Director of DS Smith's UK Packaging Division, said: "The work we have undertaken for Flowerworld demonstrates just how important the impact of packaging is to success in e-retail.
"As well as packaging that performs in a durable and functional way to keep goods safe during the delivery process, Flowerworld wanted a pack that created the 'wow' factor when customers receive their flowers.
"By working closely with the team at Flowerworld, we believe the pack will help the online consumer shopping experience to blossom."
General manager of Flowerworld, Jason Beaumont said: "The DS Smith PackRight approach really helped us to get to the bottom of what we wanted to achieve with our packaging and the end result certainly met, if not exceeded, all of our criteria.
"When people buy flowers, it is because they want to make someone feel special. The moment of truth when the flower pack arrives and is opened must reflect the quality of our flowers in terms of appearance and protection. I believe we have achieved this with DS Smith's support."