DS Smith creates standout packaging for hearing protector manufacturer, Silenta Group Oy
DS Smith's bespoke solution raises brand awareness, increases sales and meets sustainability goals
Silenta Group Oy is one of the world's leading manufacturers of communication and hearing protection products. Based in Finland, the company has been operating for more than fifty years and its high-quality hearing protectors are used in manufacturing; by armed forces and consumers around the world.
Because 80-90% of its products are exported, Silenta Group Oy wanted its new packaging to be flexible and suitable for different markets. It also wanted the new design to emphasise the high-quality and safety aspects of the product, and be made out of environmentally friendly materials to ensure its sustainability credentials were maintained.
We tasked DS Smith with finding a solution which was eye-catching, sustainable and compact but also that helped raise brand awareness and ultimately, increase sales. Given that we operate across a number of industries, we had a lot to consider in order for the packaging to work effectively while making an impact.

— Heikki Koponen , Silenta Group R&D Manager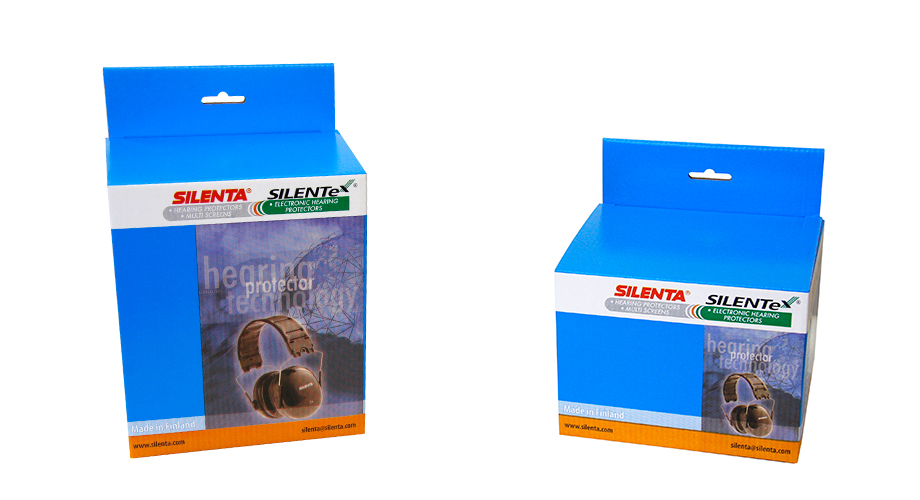 A DS Smith graphic designer, based at one of its innovative PackRight Centres, designed a new visual image for the packaging with new graphics and a new colour palette which allows the product to stand out more effectively. In addition, the corrugated board used in the design was coloured with water soluble paints, so that it was recyclable and environmentally friendly.
Karri Koskela from DS Smith concluded: "Our in-house specialist graphic designer used a design plan which ensured that the correct colours were used at the production stage. This has resulted in an efficient, cost-effective and stand out solution which delivers to the brief. The packaging is in line with Silenta Group's sustainable aspirations and creates a more cohesive and consistent brand experience than before."
We were also delighted to work on a product which exists to improve employees' wellbeing and work safety as this is something we are passionate about at DS Smith.

— Karri Koskela, DS Smith
Since the implementation of the new packaging solution, Silenta Group has seen a considerable increase in brand awareness.