Plastic Beverage Trays
Durable, lightweight and reusable beverage trays for 1 and 2 Litre bottles
One and Two Litre Beverage Trays
Our plastic beverage trays are made from HDPE. They are used to transport 1 or 2-litre bottles throughout the supply chain. Since they are reusable, our trays are an economic solution.
They can also be used as an in-store merchandising unit (MU). Our trays can be stack and used in conjunction with a quarter or half display pallets to build a display. Our one-touch replenishment solution ensures that your product will always be available for your customers, thus increasing sales.
Features and Benefits
Durable and Lightweight
Easy one-touch replenishment solution
Reusable
Economical
100% Recyclable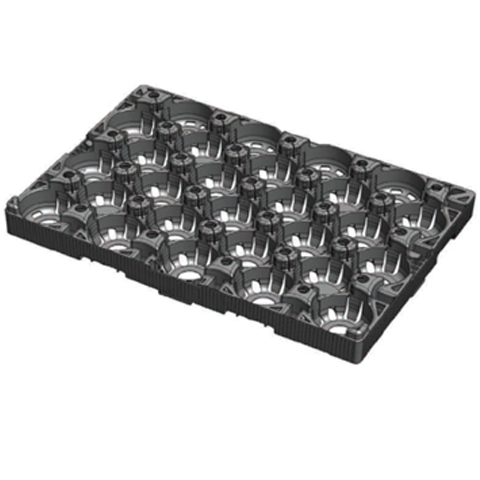 1 Litre Beverage Tray
The only tray available that is compatible with all leading Retailer and FMCG brands and bottle shapes! A unique design feature is the 'sprung' features that grip the bottle neck below – this helps to help stabilise a built MU, so it may be moved to the sales floor with no tertiary packaging, or wrapping in place.
The Sprung Element
Neck of bottle below in neck pocket of tray. Sprung feature protruding into base of bottle pocket
2. Bottle entering the base of bottle pocket. Sprung feature still protruding into the base of bottle pocket.
3. Sprung element displaced into neck recess/pocket